Richard Bortnick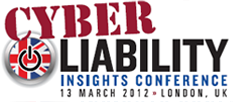 I strongly encourage our many European readers to attend the upcoming Advisen Cyber Liability Insights Conference to be held on 13 March at The Willis Building in the City. The inaugural Cyber Insights Conference which Advisen presented in NYC in October was a smashing success and the program planners are expecting an equally respectable turnout in London.
Our friends at Advisen have recruited thought leaders from across the European cyber and technology industries (and a certain U.S. lawyer/blogger) to discuss a myriad of topics of interest to underwriters, brokers and risk managers alike. Speakers include luminaries such as Paul Bantick of Beazley, Stephen Boddington of Chartis, Robert Bond of Speechly Bircham, Dan Trueman of ANV, Chris Cotterell of Safeonline, Emily Freeman of Lockton, Simon Milner of JLT Specialty, Joe Trotti and Jeremy Smith of Willis, Tony Dearsley of Kroll Ontrack, Stewart Room of Field Fisher Waterhouse, Andrew Horrocks of Clydes, yours truly, and a host of others.
Among other cutting-edge topics, we will discuss Privacy and Data Security Regulation, Coverages and Coverage Issues, CyberSecurity Disclosures and Exposures, and Data Breach Responses and Strategies.
Equally important, the program is priced at a level that firms and companies will find extremely attractive. And did I mention that there is no cost at all for Risk Managers to attend?
For program and registration information, please visit https://www.signup4.net/Public/ap.aspx?EID=CYBE21E. Or, feel free to drop me a line at rbortnick@cozen.com.
I look forward to seeing everyone there!